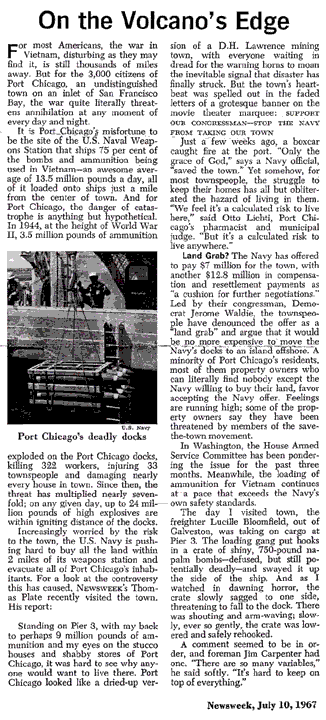 I was a new Ensign standing the 0800-1200 in port OOD quarterdeck watch on that fair day in MAY in 1967. I don't recall who was Command Duty Officer (CDO) that day, but it certainly wasn't me.
It seems we were moored to AMMO PIER 5 at the Concord Naval Weapons Station. Suddenly, about 1/2 mile away, a boxcar exploded, upriver and to our left toward Port Chicago. For whatever reason, I was looking right at it when it happened. Needless to say, I learned well about the Ammo Ship pucker-factor in that instant.
Having flipped the fire alarm lever, that droning 1MC announcement was passed and reverberated throughout the ship, "this a NOT a drill -- explosion and fire on pier 4!" That got everyone's attention, bringing out the duty section with much gusto. Almost immediately the standby duty fire engine on rails moved into position with it's pumper and foamer ready for action and "the little engine that could", was blowing its horn and went right up to the fire and cherry-red bombs and promptly commenced to put it out.
The CDO took control of the situation on board as if by script and rehearsal. With many thousands of tons of explosives within a mile of our location and PYRO being fully loaded including a deck load, he began the process of getting the ship underway and away from the danger, on limited power. As was to be expected, Chief Martz had the engine room under control. The sea and anchor detail wasn't set but everyone flawlessly did what was necessary, taking directions via the 1MC. Since no tugs were immediately available we proceeded to warp the ship away from the pier on two spring lines and using river current.
We were singled-up with our stern sticking out into the river when Captain Gersuk, who had been playing golf in Concord, and having heard the depot fire alarm, came racing down the pier in his car, weaving among the stacks of ammunition, to pier's edge. By then he was too late to get back aboard and I can still see him standing there, watching helplessly as his ship backed out into the Sacramento River. We had never fully gotten underway, remaining moored by two spring lines. Not until we had warped the ship back in with the help of a late arriving tug, was the Captain able to come aboard looking quite pleased to have a ship to return to.
Investigation of the explosion later revealed that a forklift operator had sheared the end off a 500 pound bomb; one of many stacked on pallets in the boxcar he was unloading. A low-order detonation took place blowing the forklift, it's operator and the boxcar to who knows where. Low-order refers to what happens in a similar situation when a firecracker has it's fuse pulled out and then a mean little kid sets it on fire at the fuse end. Remember what happens, you mean whittle kid??? Well, magnify that thousands of times with a big Uncle Sam firecracker!!! There were plenty of eyewitnesses, and they were all running around like ants, in and out among the stacks of ammunition to get away from a subsequent lively little fire and secondary explosions.
The July 10, 1967 Newsweek Magazine article titled "On the Volcano's Edge" presented offers another viewpoint of the Ammunition Depot and Port Chicago.
---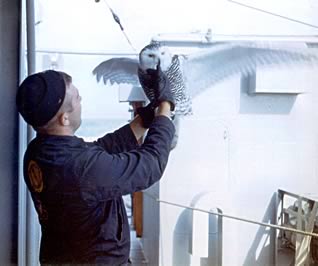 It was after I left the Pyro in the early 1960's and was aboard the USS Rehoboth AGS-50...
It was cool and I was wearing my blue working jacket with the Pyro patch on the back. Perched on my arm was a large, beautiful, Arctic Owl or Snowy Owl as they are commonly known. We were 200 miles at sea off the Kamchatka Peninsula. When he lighted on the deck I captured him by throwing my blue jacket, with the Pyro patch, over him. So, even after I had transferred from Pyro she still had a hand in the capture.
I had the bird on board for four days. On the second day the XO said that I couldn't have wild animals or birds as mascots in the Navy. However the Captain told me that I could keep him until we reached our destination at Yokosuka, Japan. On the fourth day we were still 80 miles from the nearest Japanese island. While walking on deck with the bird on my arm, a gust of wind lifted him into the air and he was immediately flying behind the ship. When I saw that he would not be able to catch up I went to the Captain's cabin and knocked on the door. When the Captain asked me what I wanted, I asked if he would slow the ship so my owl could catch up. He paused, looking at me for a moment, then asked if I knew what he was going to do to me if we were late reaching port. I said, yes sir, I do! He told me to get my ass back to fantail, and when that owl comes aboard, don't let him get away again. Yes sir, I responded!
As I headed for the fantail the Captain actually brought the ship to a stop and swung right. By then the owl was probably a quarter mile behind us. As he came toward the ship, he would flap his wings for a wh09/03/2010 sessions, the Captain who was observing from the bridge wing yelled, "flap those wings you son of a bitch". I never heard any of that, but the other guys told me it actually happened.
To make a long story short, the owl landed on the bridge crane. I finally found a ladder, but the ship had gotten underway again. Before I could retrieve my owl he was flying again and I dared not go back to the Captain. The only thing that I could hope for was that he landed on one of the Japanese fishing boats we saw out there.
---
Good evening, I'm Don Green retired Navy veteran & a Pearl Harbor Survivor. My twin brother George also served on the same ship as Storekeeper.
I was aboard the U.S.S. PYRO AE-1 an ammunition ship moored at the ammunition depot West Loch Pearl Harbor on the morning of Dec. the 7th. The PYRO was one of two active ammunition ships in the Navy. Her sister ship was the NITRO. We departed from Mare Island on October 1st and arrived at West Loch a week later and moored starboard side to NAD. Liberty was granted and about a third of the crew and officers went on liberty. That was a 3/4 hour trip to the liberty landing.
I was a 3rd class shipfitter and was the petty officer of the watch for the period 00-04, known as the mid-watch on the morning of December 7th. It was quiet watch with the only activity the two intoxicated sailors who returned to the ship. No charges were made. We had on board 1,000 14" rounds (shells) and the powder canisters of equal number. These were to go to the USS Nevada BB 62 on Monday morning! I was looking forward to going alongside this Spit & Polish battleship and show off my skill at running steam winches to off-load the ammunition shells.
Also on the pier were three box cars of ammo and a 250-ton covered lighter floating astern of us also full of ammo. I was relived of my watch and hit the sack in the forward section of the ship and on the second deck. Because of the climate we slept in our skivies with only slacks, socks and shoes to put on when we got up. I had sleep-in privilege so wasn't looking forward to getting up! Then all of a sudden there were these very loud booms! What the HELL is the Army doing these exercises for on Sunday morning? And then GQ was sounded.
I jumped into my slacks and shoes and hightailed it to my gun station on a three inch 50 Caliber AA gun. We were short-handed because of those on liberty. I took the position of pointer and my partner took the trainer position. As soon as the shells came up from the magazine I started firing at Planes. In the excitement we were firing at some of our own planes, not knowing any had got off the ground!
We held up our fire but then all hell broke loose with four planes making different approaches. Three had only machine gun firepower but one had a BOMB. The Captain sent word down to the boat deck for Ensign Sperling to take some men and move the boxcars. In the excitement, Sperling, waving his 45, hollered "Five brave men, follow me to move the box cars."
I watched the one plane approach from the bow to the stern at about 500 feet above the masts. I could see his features, with leather helmet and red scarf. And then came the BOMB! I watched it come out of the bomb bay! Being a nineteen-year-old sailor needless to say I was scared to death! And I ran from my gun station for safety! The bomb hit and penetrated the cement dock and blew-up! I got back on the gun and started firing, as did the 50 caliber machine guns. We hit the plane and it was on fire as it went over the horizon!
The ship bobbed up and down for awhile and really shook-up my shipmates below decks as several pipelines ruptured. After this scare all became quiet and we settled down to take a look at what missed our ship. Parts of the bomb were rounded up to take back to to the U.S. We stood guard for four days believing there would be a landing before we gave, as requested, rifles to the USS Honolulu and then departed for the U.S. With shell fragments and a 14" dud that was a battleship shell sold for scrap and had gone through the #3 turret on the battleship Tennessee.
On the fourth day out of Pearl Harbor in the wee hours of the morning General Quarters sounded. You might know I was asleep again! But it only took a couple of seconds to get out of my bunk, as I was fully clothed including a kapok life jacket. When I arrived at the 3" mount the 5" gun had fired at a submarine which had fired a torpedo at us. As we were light-loaded and riding high at the bow, the torpedo went under the ship. As the torpedo was approaching the five-inch gun was fired and the flash from the muzzle was taken as a hit. They reported us sunk. The gun crew never got a second round off. There was a "hang-fire". They filled the gun barrel with water and waited for the Captain to order the breech opened 15 minutes later. When the breech was opened, first came the shell and then the powder. The flash had blinded the gun crew and everything went in backwards. No planes or ships came to see if we were sunk. We maintained radio silence until the planes off the coast of San Francisco could recognize us. It was a welcome relief to be in safe waters.
I remained on board during several trips replenishing ammo to Pearl Harbor. Following the replenishing trip we departed with a task force of one cruiser, the USS Detroit, and four 4-stack destroyers converted to minelayers to head to Adak, Alaska. It was a bone-chilling and delicate job loading those mines on those small ships. We got it done and headed to Bremerton and then to the South Pacific and New Hebrides to support our ships with ammo. While moored there we off-loaded ammo from two cruisers, the St. Louis & the Helena that had lost their bows from enemy fire in the Java Sea. After several months we headed back to Mare Island.
A dispatch was received to split any family members, so with my twin brother on board, I had to go. My brother was a disbursing storekeeper and had to stay. We had three or four shipfitters. My twin remained on board throughout the war.
I lost him in 1999 to cancer.
---
During one of our many mid-60's periods on Yankee Station in the Tonkin Gulf, in the midst of the heavy naval bombing campaign, Pyro was engaged in the daily ritual of satisfying the aircraft carriers vast appetite for bombs. It was afternoon, the pre-breakfast carrier replenishment was ancient history and we were working on our second or third carrier of the day. The demand for bombs was so great we always swore those carrier sailors were rolling our bombs off their other side as fast as we sent them over. The pallets of 250 and 500 pounders, and the pairs of 1000 pounders had all found their new temporary home on the hangar deck waiting to be forwarded to "Charlie". We had begun sending over the big 2000 pounders one at a time. Each had a steadying line attached and was tended by a deck hand to prevent the load from spinning. As one was lifted and hauled outboard, a thoroughly surprised and certainly terrified deck hand went with it, dangling from that steadying line tightly bent around his wrist. Naturally the winch operators stopped him half way across and just above the white capping waves, while the skippers deliberated over who should take him. Needing the bomb more than we did the carrier took the load, bomb, sailor and all. Our obviously unwilling PyroManiac reluctantly got a few minutes of unexpected carrier duty that day. Following the rearming, a highline and breeches buoy were rigged to bring our wayward sailor back home. On the return trip, having achieved instant dignitary status, he was properly piped aboard, "LILLY Arriving" and like any true celebrity was the subject of conversation among both crews for some time to come.
---
The time would be during a WestPac cruise in '68 while tied up to the Sacramento Pier at the Naval Weapons Station at Subic Bay P.I. The normal procedure for loading ammo onto the ship was that the ammo was set out on the tarmac adjacent to the pier. Upon to our arrival the ammo would be loaded onto the ship by civilians from the facility under the supervision of the ships crew. One afternoon while moving ammo around on the main deck one of the fork lifts caught on fire, seemed like that sort of thing happened on a regular basis. The fire was an electrical fire in the battery area of the forklift to the rear of the operator. The operator in a panic decided that the way to avoid getting burned was to try and outrun the fire by accelerating and driving in circles around the superstructure on the main deck. Of course all he really had to do was stop the forklift and disconnect the battery cables and the fire would go out. Upon seeing the frightened operator making like Mario Andretti around the deck, the crew that was overseeing the operation tried to no avail to get the guy to stop, so they took two forklifts and created a road block in the passage along the starboard side just as it came out onto the forward deck. This trapped the panic-stricken operator and he finally stopped, jumped off the forklift, and ran, headed for the gangplank. The Pyro crewmen that had set the roadblock disconnected the battery cable and used a CO2 fire extinguisher to douse the flames.
---
During the WestPac cruise of '68 the Pyro visited Subic Bay P.I. we most often tied up to the Sacramento Pier at the Naval Weapons Station. Because civilians were loading the ship at the facility, that provided for a great deal of Liberty time for the crew. One fine summer afternoon the Operations Department challenged another department to a "Kegger Baseball" game to be held a the field on Grande Island. Grande was a great place to go for liberty as only the Fleet sailors were allowed out there; we didn't have to compete with the folks stationed at Subic or their dependents. Special Services could be counted upon to provide most any kind of recreational activity that you could imagine. To play Kegger Baseball all you need is a bunch of guys in need of a little recreational distraction, three kegs of beer, a bat, a ball, and some mitts. The Special Services guys would set up a keg of beer at each base and would do the pouring. As I remember it there were only about two innings, the first and the last, only because after the first inning you kind of lost count of things like innings, runs, scores and outs. The idea was to hit the ball and run to first base much like in regular baseball, that was where the similarity started to fade, when you got to first base you had to drink the beer the guy handed you before going on to the next base. If you were a good hitter you might have to down two or three of those beers before getting out. There were a few variations that made the game more interesting, if the pitcher was too good and got a strikeout he also had to down a beer, same with catching fly balls. Needless to say within a very short time everyone involved was about half ploughed. Fortunately for us the transportation to and from the ship was prearranged and at the designated hour we all piled into a motor whale boat and headed directly to the Pyro without having to go through the main base and the weapons station. As we were making our way back to the ship one of the officers grabbed one of the sailors white hats and sailed it Frisbee style into the bay, in return the sailor that lost his hat grabbed the officers' hat and it joined his in the bay. Not really a fair exchange as a white hat cost about a buck at Sea Stores and an officers hat went for about $20.00 or so. Naturally one thing led to another and by the time we got to the Quarterdeck few had their hats or their shirts, (including officers) and a few guys lost their dungarees. Just so no one is offended we were all wearing swimming suits or shorts under our dungarees. It must have been quite a sight to see all of us trudging up the gangplank, drunk as a sailor (upholding a fine tradition) and probably being a little loud and obnoxious, the Quarterdeck watch just sent us to our berthing areas and encouraged us to stay there till morning which wasn't hard as most of us just passed out on our racks anyway.
---
Bombs Away
Tony Medeiros (GM) AE-24 1963-64
Location; South China Sea / Date: Spring or Summer of "64 / Time : Early, AM... As members of the 3rd Division we were bringing up 1000 pound bombs from #2 hold and storing them on deck in preparation for replenishing Carriers deployed in that area. The standard practice at that time was to secure the rows of bombs with short chocks about the size of 4x4's placed in front of the rounded shipping rings. As another row of bombs were added, the chocks were moved to the next outside row. Somehow one of the bombs began to roll as the ship rolled and it got away from us. The #2 elevator was down in the elevator shaft at about the 2nd or 3rd deck and several of the automatic deck stops did not deploy. The bomb rolled over the edge of the elevator shaft and fell all the way down landing on the elevator just in front of but missing the elevator operator. The impact resulted in a very loud thud and a great vibration felt through the main deck. Fortunately, it landed squarely on it's shipping rings ( they ended up completely flattened ) and of course the bombs were not fused so we are here to talk about it. The bomb was once again brought up to the main deck, the elevator operator was relieved as I believe he needed to recover from the scare. As I recall, the bomb was not discarded and eventually transferred to a carrier later that morning. I think most of us, particularly those of us who saw it go over and the elevator operator thought we had taken our last breath in this world. I wonder if any of the crew remember this "incident" or were in the vicinity of #2 Hold that night? I don't remember any big investigation, as it was just "get over it" and let's get going as we were always under the gun to have everything ready to go before we started to replenish the other ships.
---
In need of assistance in regards to an incident which happened during off-loading ammunition from the Pyro AE-24, before going into the shipyard at Mare Island ( 1965 ). Steve was involved in an ammunition mishap when a couple of guys fell on me while off-loading 3 inch-50 cal. shells. Not a big deal then, but I'm sure suffering from it today. Anyway the deck logs do not reflect any sort of ammunition off-loading, and of course the Veteran's Admin. has not acknowledged my claim for benefits regarding this incident. So, if anyway remembers this incident, "PLEASE contact me. I have had an on-going battle with the VA for the past 15 years and my health isn't getting any better, Thanks Very Much, in Advance.. .Steve Valcq, P.O. Box 502 Orange Springs Fl. 32182 Phone 352-546-2146
---
During WW2, returning back briefly (late 1943) to the States we went to the Alameda, Calif. Shipyard and into Dry Dock for Repairs and Refurbishing. The Crew was split into Three Sections and each was granted a 10 Day Leave. I was in the Second Section Group to go on leave and this is when I fouled up. It took me 4 days by train to get home ( Cincinnati, Oh.). I had 4 days at home and then it was 4 days to return by train to Alameda, that put me 2(plus) days AWOL I was restricted to the ship (still in dry dock), while awaiting a Deck court-martial. Four days later I was sentenced to 10 days restriction and a $45.00 fine, (back then $45.00 was a bit stiff since I was only getting $76.00 a month, including Sea Pay). P.A.L.( Prisoner-at- Large) was stenciled on the back of my shirt and on my dark blue white hat. (Note: during WW2 all white hats and skivvies were dyed blue while in the South Pacific). I was given extra duty and not allowed to go to the "GeDunk" (Ship Service). or to the evening movies. I was given the duties of Prison(er) Chaser as a third of the crew was on leave. I was given an SP(Shore Patrol) arm band, a night stick,a garrison belt and holster with a loaded 45 colt automatic, side arm. What a sight I must have been..A Prisoner-at-Large. And so marked and armed to the teeth. I guess I must of been a Trustee ! With water restrictions, the ship' head was off limits would escort Prisoners (usually four or five at a time) to the bath house (head) ashore for showering, etc. and what ever else. The GeDunk was near the main gate and I was now allowed the privilege to frequent the GeDunk. The evening movie restriction was also lifted as after all, I was a "Trustee" Prisoner Chaser! The ship then moved to "* Port Chicago Ammunition Dump". While we were being loaded with ammo. My duties were changed. I become a Shore Patrol Man and instructed and assigned to round up any of our crew who were in the Brig ashore or other wise in trouble` and return them to the ship. Needless to say my P.A.L. fatigues and blue dyed hat were not worn for this duty. The Skipper graciously cut one day off my sentence so I could have one last liberty before we shoved-off for the South Pacific and returned to WW2. Lou Richie.(1943-44). *Note:Shortly, after we left the States Port Chicago Blew Up!! and then later in 1944 we witnessed the Mt. Hood when she Blew Up in the Admiralty Islands (South Pacific !!) and would you believe that the AE-1 cruising (speed) was approx. 8-9 knots ??
---
---
Anticipating the June 1998 USS PYRO reunion at Charleston SC, I attempted contact with former PYRO Commanding Officer, Captain Isper J. Gersuk. A computer-using associate had obtained just one name, address and phone number from the Internet. Thinking, how many people with that name could there be, I believed I was on the right track. I inquired by letter hoping to interest him in the reunion. In that letter I made reference to the Scarborough Shoal near grounding incident knowing the right person would recognize the circumstances and thereby remember me. Evidently it was the right person and, although he had already passed away, my letter had found it's way to his son who responded with the attached letter.
---
April 18, 1998
Raymond P. Gillman
RDC, USN, Ret
Dear Chief Gillman,
Thank you for your recent letter inquiring about my father, Captain I. J. Gersuk. The telephone number and address were indeed correct. Your correspondence was the latest of many that he received over the years from people he had proudly served with and whose lives he had touched during his many years of distinguished Naval Service.
None of Dad's tours of duty over his 32 year career were more fondly remembered than his experience as commanding officer of Pyro. To Dad, commanding Pyro in wartime was the essence of all that the Navy meant to him-challenge, danger, duty, devotion to country, and the leadership of fine men such as yourself, Chief Gillman. After Pyro, Dad moved on to command of Fleet Air Wing Three in Brunswick, Maine in 1967. I can still remember the day in June of 1968 when Dad flew me in a P-3 to Annapolis when I entered The Naval Academy, and how proud he was at my graduation in 1972. From Brunswick, Dad moved to a few desk jobs at the Pentagon, and retired from there in 1973. Dad retired in McLean, Virginia, and worked for a few years in the 'civilian' world, but of course nothing came close to his experiences in the Navy. He chose instead to concentrate on his golf game, which was always quite good, and his woodworking hobby.
I am sad to report that my father passed away on November 1, 1996. He is now proudly resting at Arlington National Cemetery, among the men he loved and served so proudly with. If you ever have occasion to visit there, I would ask you to pay him your respects.
My mother, brothers, sister and I would love to hear about the circumstances when you and my father became close during that run Yankee Station and Subic Bay near Scarborough Shoal, if you would be willing to share that with us.
Thank you for writing, Chief Gillman. Your letter touched me, and I will be sure to pass it on to our family as another reminder of how special our father, Captain Gersuk, was.
With warmest regards,
Sincerely,
s/ D. J. Gersuk
---
Apri1 30, 1998
Dear Joseph and the Gersuk Family,
I was delighted to receive and read your letter although saddened to learn of Captain Gersuk's passing. I was truly proud to have known and served with him. He is most certainly in good company at Arlington, and if ever in the vicinity I'll make a point to visit him and pay my respects.
The reason I tried to contact Captain Gersuk was to alert him to an impending reunion of former Pyro crewmen this June at Charleston South Carolina. I have been in touch with two former Pyro Commanding Officers, and organizers of the reunion. I have asked that you be provided with information about the reunion but I will parallel that with copies of what I have as backup. I have been assured that any of the Gersuk family attending the reunion would be welcomed as Pyro people. I would have been proud and honored to meet with the Captain again. Under the circumstances I would likewise be proud and honored to meet with any of you. I can't vouch for the reunion, what to expect, who will attend or whether any of the attendees might have served with the Captain or myself, but I plan to give it a try.
I retired from the navy as a Chief Petty Officer after only twenty years service in 1973. I went on to become an Air Traffic Controller with the FAA and retired from that after 23 years last October. Having been a two time victim of coronary artery disease and prostate cancer I have decided against a third career and am enjoying retirement, making every effort to keep my fishing lines wet.
You asked me to share with you the circumstances by which the Captain and I became close on that run from Yankee Station in the Tonkin Gulf to Subic Bay in the Philippines near Scarborough Shoal along the way.
Forgive me if this seems to take the appearance of a short novel but some background and follow-up is necessary to give it the right perspective.
Recalling back almost 32 years some of the events are quite vague and mostly forgotten while other events are as if they happened only yesterday. Perhaps after reading this and learning the facts you may be able to help me understand what happened and answer the question that has eluded me all these years, why?
After a very long and very busy 1965 deployment to the western pacific and Vietnam combat zone, and what seemed a short stay in Pyro's Home Port at Port Chicago California we began preparations for the next, 1966, deployment.
It seems it was the early months of 1966 that Captain Gersuk had assumed command of Pyro. Along with a new commanding officer Pyro was assigned a new, young Ensign, who shall remain unnamed. Lacking a qualified navigator or a more senior and experienced officer to fill that slot the Captain designated that young Ensign as ship's navigator, tasking him with learning the job quickly under the guidance of the ships Quartermasters. That he did. After just a few trips to sea including a week or so of underway combat training at San Diego, the navigators celestial navigation fixes were right on the money compared to fixes established visually or by radar. The young fellow seemed to become a crackerjack navigator in pretty short order.
On our crossing westward from the San Francisco area to Pearl Harbor in Hawaii, the navigator's navigation was remarkably accurate, and just like following a road map. Having endured a few days of inspections and visits by Service Force honchos at Pearl Harbor we continued westward setting the course for the Philippines. Several days out radar detected a large island even though the navigator indicated we were fifty miles farther away from the nearest island. Radar evaluation proved that our land radar contact was in fact Minami (south) Iwo Jima, southernmost island in the Iwo Jima chain. Restarting from there the course was set for the north end of Luzon, the largest of the Philippine Islands. A few days later it was the same story all over again, radar contact, large island, fifty mile navigation error. Yes, that was Luzon, fifty miles early. The inconsistency was constant and even continued beyond the Philippines to Pyro's arrival in the Tonkin Gulf along the Vietnam coast.
When operating within a known geographic area and in relative close proximity to land radar navigation becomes the quickest, easiest and preferred method thereby pushing celestial navigation onto a back burner, out of sight and out of mind. We had ships to service and radar got us to each of our rendezvous.
Among the extensive array of radar detection, threat evaluation, communications and navigation equipment contained in the ship's Combat Information Center (CIC) is a Dead Reckoning Tracer or DRT. The DRT analyzes inputs from the ships gyro for direction of movement, and inputs from the ship's underwater speed log for speed of advance movement. It calculates the ships theoretical true movement displaying the result on adjustable latitude and longitude position dials incorporated into it. The ships position as determined by the navigator is routinely applied as an adjustment to those DRT dials to be referred to in estimating the ships position at a later time. Although subject to some error because of wind or water current effect the system is quite accurate.
Having resupplied the aircraft carriers and other combatant ships with bombs and munitions for a few weeks Pyro was to make the day and a half voyage to Subic Bay to restock our own load of bombs and munitions. Being fully aware of our navigation problem and beginning that voyage late at night posed me with some concern. As conditions were excellent for radar navigation I instructed the CIC watch supervisor to determine the ships position by radar and to reset the DRT dials to that position. I was reminded that the navigator's 8:00 PM position had been set into the device earlier but I directed the adjustment none-the-less. I was comfortable knowing our exact position at that moment and in the DRT's capability.
After dinner the following evening I had settled into a good comfortable seat in the chief's lounge to watch the evening movie. As the second reel was being put on the projector I decided to leave the movie and go up to CIC to see what was going on. Everything seemed quiet. The young Radarman hugging his radar screen explained that he had been scrutinizing the poorly defined blossom on the screen a few miles ahead thinking it was a moisture laden cloud. Noting the size of the object on the radar, a quick check of the DRT position dials and the navigation chart of the area sent me hurriedly to the bridge advising the Officer of the Deck (OOD) that I believed Scarborough Shoal with its six feet of water depth to be just a few miles ahead and recommended he change course 90 degrees to starboard. Responding, don't BS me chief, he took my actions as a joke. I snatched one of the lookout's binoculars and ascended to the next deck up for a good look. The sea was nearly glassy smooth with nothing to be seen ahead. The navigator and quartermaster were there making the sightings for the evening celestial fix. He nearly dropped his sextant when I told him of Scarborough Shoal being little more than a mile ahead and recommended turning to starboard to avoid it. The navigator ran below to the bridge, ordered the course change, and ordered the announcement "Captain to the bridge immediately". While turning, radar fixes on the poorly defined object close aboard positively confirmed it to be in fact, Scarborough Shoal. Although nothing was ever seen visually, the ship's radar saw it. Although CIC was filled with the watch crew, the Captain, the executive officer, the navigator, the operations officer, the quartermasters and myself, there was an ominous momentary silence while we all just looked at each other. After all, we did have about two minutes and three quarters of a mile to spare before that 30 foot draft ship with it's 300 to 400 crewmen and thousands of tons of explosives drove up on that reef lying beneath just six feet of water. Although we all knew where to look and what to look for no one ever saw anything out there. Lucky for us all the radar saw it. Call it premonition, call it gut feeling, call it ESP, call it divine intervention, call it whatever you like.
Having thought about it for over thirty years I still can't understand what drew me away from that movie and sent me topside that evening. Why did I do those things, and why at that time? Had that first movie reel been five minutes longer everything might have been entirely different. Whatever forces came into play in that situation are beyond my comprehension. I do know though, without any words being spoken between us, I could feel that Captain Gersuk and I had become quite close after Scarborough Shoal.
Upon arrival in Subic Bay the following morning and within minutes of the anchor settling into the bottom the Captains Gig was taking him ashore to demand a qualified navigator from the powers above. Although that effort was in vain, a team of navigation experts from the Fleet Training Group was dispatched to investigate and resolve the problem. The solution to the problem was found almost immediately. It was determined to be a simple mathematical error in calculation. It seems that after crossing the 180th meridian, or International Date Line, from west longitudes into east longitudes our navigator was still navigating in west longitudes. A factor that is added (or perhaps subtracted) with calculations in west longitudes must be reversed and subtracted (or perhaps added) with calculations in east longitudes. The celestial navigation procedure was learned along the California coast in west longitudes but the plus or minus sign change wasn't made upon the transition into east longitudes. This accounted for both the accuracy in the west longitudes as well as the errors in the east longitudes. All those knowledgeable of the incident had expected the Ensign to be relieved of his navigator duties and demoted to some insignificant menial assignment, or worse. Instead, Captain Gersuk summoned the Ensign to his cabin, told him what is past is past, welcomed him aboard, and told him "Ensign, as of today I'm appointing you as my ship's navigator." I was immensely impressed with my skipper's actions that day, and the Ensign Navigator's navigation was flawless thereafter. I had been in receipt of orders for transfer in July of 1966 from Pyro to the USS Pollux based at Yokosuka Japan. During one of the following trips to the Tonkin Gulf I was transferred at sea, lifted from Pyro's fantail by helicopter and taken to a nearby aircraft carrier. During the many prior helicopter personnel transfers Captain Gersuk would always oversee the operation from Pyro's bridge. During my transfer he was on the ship's fantail shaking my hand, saluting me and bidding me bon voyage. I was touched and honored. What seems like a few months later Pyro made a port call at Yokosuka Japan on it's way back to the States. Along with some of my former shipmates, I visited the Captain on board chatting with him in his cabin. He accepted an invitation to my home there for an authentic Japanese dinner prepared by my new Japanese bride. He seemed to thoroughly enjoy the visit and my wife and I were both thrilled and honored to have him in our home. That was the last time I ever saw or communicated with the Captain. Except for my visit to him on board Pyro and his visit to my home I respected the tradition that the Captains and the Chiefs don't socialize. Although unspoken at any time, Captain I. J. Gersuk and I shared a bond, a bond cemented by Scarborough Shoal.
Getting back to the forthcoming reunion, I mentioned earlier having been in touch with two former Commanding Officers of Pyro. They both followed Captain Gersuk. Retired Captain Donald B. Wikeen is the reunion chairman, living in Charleston. Retired Captain Kenneth C. (K.C.) Holm will try to attend the reunion from his home in California. Both are listed on the accompanying roster. Having command of Pyro in common with Captain Gersuk they may be interesting conversationalists for you. Mr. Ed Stone (also on the roster) is the reunion coordinator and Pyro newsletter editor. I'm sure Mr. Stone would be interested in knowing if you have any names or addresses of any former Pyro officers or crewmen Captain Gersuk may have retained. I wish you all the best of health, and may God be with you. Hope to see you in Charleston. With warm regards, Sincerely,
Raymond P. Gillman RDC USN RET
---
That Sunday was planned to be a day of rest and recreation. It was well earned. We had recently completed task force ship maneuvers and battle training for navy's "Rainbow Five" plan. That day began deceptively delightful. Tropical foliage perfumed calm and balmy air. About half of our personnel were on shore imbibing the pleasures of Honolulu. Ensign "Jack" Sperling and I were alone by the gangplank of U.S.S. PYRO AE-1. Jack and I were friends who shared the ignomity of being butts of a lieutenant's bigoted barbs. He had labeled me "That highyeller nigger mess attendant". Sperling is a Jew.
By a twist of fate, I was not at this unique time locked in the brig along with Thomas Crane. My punishment from our simultaneous court martials was confinement to the ship for ninety days. The previous night ended my status as a prisoner-at-large. My first shore leave should begin in five minutes. I never made it!
Sperling had the deck. I had on my best dress whites. He wished me a good time on the beach. I inquired whether he had discovered any chastity belts behind those grass skirts.
"Just be sure one of those Wahinees won't cause you to be AWOL again." His mock sarcasm started a war! Right then, on cue, all hell broke loose!!
IT WAS FIVE MINUTES BEFORE EIGHT O'CLOCK, DECEMBER SEVENTH NINETEEN FORTY-ONE AT PEARL HARBOR.
An awesome explosion occurred. Its concussion shock wave pressed an invisible demon against us. An enormous black cloud boiled up, bisecting the blue sky.
"The NEOSHO must have blown up" I exclaimed.
Trees obscured our view , preventing the sight of an airplane approaching and firing its machine gun.
"Oh no! Another drill," groaned Sperling.
A white plane with a red ball on it popped into sight.
"It's the Japanese," I screamed.
"Drill," insisted Sperling.
"I'm sounding G.Q.," I yelled back, running toward the ship's bell.
The plane banked away from a hulk swinging on the bouy where we had unloaded some cargo. The pilot spotted our location and rapidly reversed his direction by climbing into an inverted loop. He flipped the wings and dived. A line of spurting water sped toward me, and believing I was about to die, my legs faltered.
The bullets stopped short because the pilot had to veer away from PYRO'S smokestack and aftermast in order to pass over. His canopy was racked back; for a few seconds we looked into each other's face, perhaps only thirty feet apart.
I agonized, hoping Sperling would shoot his O.D. pistol. He didn't, and the plane went out of range. I reached for the bell cord.
"Don't do that! I'll do it," ordered Sperling.
I waited just long enough to make sure he did; by the second clang I was already further toward my battle station at the bottom of the fantail.
IT WAS LOCKED!! From above and outside came sounds of explosion. No one came soon enough with a key, so I took off to find one. Racing through the ward room I heard the pantry phone ringing and grabbed it.
"Who's this?" asked the Captain.
"Cassius, Sir."
"Tell McFeely to get this ship underway...we're under attack! Get him to the phone!"
McFeely's state room was only three strides away. Shaking him and shouting "We're under attack" stopped his snoring.
"Get the hell out of here!" he demanded, pulling a pillow over his head.
I yanked the pillow. McFeely looked angry, then puzzled, by the explosions.
"Captain wants you on the phone."
His eyes darted to where my finger pointed to the dangling phone. He went to it, dropped it and barrelassed down the companionway, barefoot and in his skivvies.
Captain's irate voice boomed through the phone. "McFeely! McFeely !"
"He's already gone to the engine room, Sir. But the ammunition hole is locked and I don't know where to get the key."
"Go back down there. I'll send a key and some help."
A tormenting while passed before a CPO came with help. One guy who would be our talker plugged in to the sound powered phone system connected to topside. Feverishly, powder and slugs went up the electric hoist. PYRO shook,quivered, lunged and recoiled each time the three-inch fired. Thirty and fifty caliber machine guns rattled a nonstop staccato.
Suddenly, whrrumph, blam-bloom! in quick succession. PYRO bucked and fishtailed like a rodeo bronc. Lights went out. A boxed projectile tugged upward, almost from my grasp; next moment it was ten times heavier, crushing me against the bulkhead. Everything and everybody tumbled and mixed in the vertiginous darkness. Chief was in pain. Water came rushing in, filling my shoes. My slippery feet were thrashing for a footing. They came down on someone's back, then found a place on degaussing cables.
The talker switched on a battery powered battle lamp. The Chief sat stunned in rising water. Blood flowed across his face, and the top of his head was gushing red. I put the ammo box down into the water and began to wipe Chief's eyes with my dress neckerchief.
A voice shouting down the shaft demanded, "Get that God-dammed ammo up here!"
The talker yelled back, "Can't do it. Hoist don't work. Power's knocked out."
I said to the talker, "Tell 'em to form a hand party. And send a pharmacist; Chief's head is busted."
By now the chief had pulled himself together- "Get damage control in here fast; we're shipping water!"
Damage Control came on the double, bringing good news. Their good news was... We were not sinking! The water sloshing about was from broken refrigeration lines used for chilling the powder magazine at my left elbow.
A hand party was strung up theee decks to guns on topside. We operated like a bucket brigade. Never in my life, before or after that, have I worked so hard. While I lifted ammunition over my head to hands reaching down thru the hatch, the noise was like that in a cowboy movie.
Eventually, things quieted down and standby was ordered.
Down by the bilges, we caught our breaths and assessed conditions: One bandaged head caused by the hoist which had careened down when power was lost. My busted lip, cracked teeth and sore back compliments a box of ammo that had tried to get away. All of us in the hole had sprains and bruises from being thrown about when the bombs exploded- The area stank of refrigerant, body odor and gun-powder; our feet were soggy and slipsliding in bloody water. Everyone was rubbing tired muscles. And scared, too. We wondered, had the Japs landed at Kaneohe or the big island? Will we be captured and executed? WILL they bomb again soon?
Sure enough, in twenty minutes BACK THEY CAME. This time it was different. We were waiting and mad! Again we strained ammo topside, PYRO'S vindictive guns barked our anger.
By and by, shooting tapered off and quiet returned. Sweating out another "stand by", we listened for more bombers. It seemed like forever until we heard "ALL CLEAR. SECURE."
We dogged the magazine hatches and dragged up two flights of ladders. Already, a human traffic jam was at the "head". Everyone dirty, tired, hungry and bugeyed. Scuttlebutt was thick. "We hit a bunch of 'em." "Some went down in flames." "Last bomb almost hit the mast on the way down; that sure would have been curtains for all of us. We've got fragments from that one -- made in the States!"
"Come off it," I admonished.
"See for yourself. Says so, right on it."
I had to see for myself. ..and did! The fragment read, BALDWIN LOCOMOTIVE WORKS, MARIETTA, GEORGIA U.S.A.
While rinsing blood from my mouth, William Barnes advised me, "Better go to the sick bay with that."
There, the sight was an unreal, hideous caldron of quiet motion. Serious casualties from the sunken ships were in a growing line. Some new arrivals were unrecognizable under a coating of black oil. Some who looked destined to die stoically waited their turn to be cleaned, treated,fed and clothed, The scene was like a grotesque nightmare to be awakened from. Every face had an expression of human anguish...pain...fear...bewilderment. I felt foolish to be complaining about minor wounds, here, among mutilated men. So after getting swabbed, I left with a bottle of mouth wash.
A shower helped me climb into my upper bunk and begin rubbing Charlie Horses where legs had once been.
Then the Chief Gunner's Mate came with very surprising news: 'You're to guard the ship tonight, from twentyfour hundred 'til five bells.' He had surprised the Captain, too, by selecting me for sentry duty. Gunner had reminded him, "Everybody knows that Wahoo, the Indian Quartermaster, is the best pistol shot on board. What they don't know is . ..Cassius is the best rifleman in the fleet."
"Cassius?"
"Yes, Sir. I've seen him rip playing cards, offhand at twelve feet.'
"Oh, I can hit 'em much further than that."
"Sir, he doesn't put holes in them; he rips them turned edgewise!"
Before my courtmartial, Gunner had discovered me winning money at the Vallejo shooting gallery, and had coaxed me into doing the sensational card feat.
Scuttlebutt going around about my assignment generated mixed reactions. Mess Attendant colleagues were elated that our respected skipper had exercised emergency option and utilized the opportunity. Thomas Crane, released from the brig during the attack, congratulated me. "It was worth the tedious incarceration," he said.
There were a few southern crackers among the crew. "He should be a lot blacker for night fighting," suggested one.
Utricular cargo nets assiduously discharged ordnance while preparation was intensified for night time blackout. Adrenaline leached away my usual ability to induce sleep at will. It was crucial to be wide awake and alert on patrol, so I hit the sack early.
Soon after dark, everyone began running to the starboard deck. "Looks like the Fourth of July in Shanghai" offerred a wag. A puzzling barrage of anti-aircraft fire was going up. Red tracers crisscrossed, turning the black sky into animated plaid.
PYRO did not participate in that debacle of shooting down our own planes that were returning from patrol. Some smart (and lucky) pilots doused their landing lights and survived by crash landing in pineapple or cane fields.
Back in my bunk, I lay on my stomach to spare a very tired back. There came bittersweet thoughts. A few hours ago I was a prisoner-at-large on the vessel I would guard this wartime night. I remembered how my deferment had arrived in the mail several hours after I had departed Langston,Oklahoma to report at the destroyer base at San Diego. Assignment from there was to the U.S.S. ARD-1, a floating drydock that repaired smaller vessels like submarines and tugs. Sleep came during this reverie.
Then Gunner came and handed me a rifle. I checked the chamber, pushed the safety and fastened on a cartridge belt.
"Your orders are: "Shoot anyone trying to come aboard PYRO or trying to go aboard the hulk swinging on the buoy. Shoot anything that moves on the dock or among the buildings-"
Gunner gave me supplemental advice. "Wear dungarees. ..nothing white..black socks and no tee shirt. Before we step on open deck, put a round in the chamber and insert a full clip, so you won't make a give away noise. If you have to shoot, don't say halt or who goes there. Take the safety off now and stay in the shadows." With that, Gunner faded into one.
I riveted myself motionless in a shadow that commanded full view of the dock. Oscillating eyeballs probed because success depended upon getting off the first shot. In case of emergency, I would be outgunned and killed. My obsolete 1903 Springfield required each round be ejected by bolt action,necessitating new sighting. A tremendous responsibility for a nineteen year old! The Captain's trust, Gunner's confidence and Cranes's expectations were in resolute hands!
The full significance of guarding the ship and ammunition depot that night occurred to me fifty years later when the Marine Corps League at Kearny, New Jersey awarded me a commemorative Pearl Harbor pin. If a saboteur had been successful that night, the United States would have lost PYRO, its men, and most of the ammunition which fought our early battles, including Midway.
It was spooky quiet the rest of the night, as if neither ship nor shore dared to startle me. Even nocturnal creatures spared evidence of their presence. Hours dragged by in slow motion. Lonely stillness induced reflection and introspection, also a bit of self indulged humor. I envisioned Gene Carusi "passing a brick" when he heard I was roaming the ship with a rifle! Then I made a vicarious trip to Washington. Secretary of the Navy, Frank K Knox sat brooding over his too little, too late plan to renew opportunity to "Negroes". The Japanese navy did it in just minutes.
Sight of the gaping bomb crater between the rail tracks on the dock snapped me back to the realities of the moment. My eyes kept returning to that compelling feature of my patrol...like guarding an evil presence.
Finally daylight found its way to West Lock and PYRO'S cargo booms dipped and swung deadly wares into boxcars. I was sent to chow and more bad news: Miniature Japanese submarines were sighted INSIDE Pearl Harbor!! They came beneath our own ships. All hands were pressed into unloading cargo on the double, but I was spared to get some shuteye.
Later, Gunner assigned me to assembling thirty and fifty caliber machine gun cartridge belts...so many armour piercing, then a tracer. Repeat. Repeat the repeat, on and on. These could be needed any minute. Guns other than PYRO'S needed my production, too.
Hundreds of tons of ammunition went down the day before on seventeen ships, along with over two thousand sailors. PYRO received sailing orders to bring more ammo from Vallejo. There was great jubilation about going to "The States"(only forty-eight in those days). A sobering aspect was that we might encounter sub-marines. WE DID!
Twenty-twenty hindsight indicates mediocre logic selected the time for weighing anchor. Steel nets which sealed the harbor entrance were pulled aside, late in the afternoon. McFeely's engines were giving their all. The exit was picture perfect with us mess attendants in the upper guntubs as lookouts for planes and submarines. Overhead a Catalina flying boat banked around pylon-eights looking for telltale shadows beneath the surface- A "Tincan" fanned our bow, its sonar harkening for submarine sounds.
But after sundown, things turned grim. Good buddy PBY Catalina and Semper Fidelis tincan hightailed it back to Pearl Harbor (and safety...and beer and all). The darkened sea made it difficult to see a periscope, but the sky was still light enough to silhouette our ship, thus aiding crepuscular predators.
Total darkenss came, evening the odds a bit- We were totally blacked out, and the moonless night had eyes for no one. For some of us standing watch in the gun tub, utter fatigue had pushed us beyond endurance. A considerate person sent up mugs from a lOO-proof Joe Pot. It had the consistency of threefinger poi, barely too loose to be coffee cake. It did miracles for the innards, but the eyelids wouldn't open another f:stop.
"I can't stay awake," complained the guy on the right.
"Me, either," came from the left.
I ventured a solution. "One of you catch a 15 minute nap; I'll make sure no one climbs the ladder and catches us. We'll take turns."
"Man, they can shoot you for that!"
"Might as well get shot . ..gonna fall over pretty soon and bust my head on the weapon. I couldn't see ten subs out there, anyway.'
"You do it first, then I will," proposed one of them.
"Me, too, agreed the other."
I balled up into a knot below the flak shield Someone punched me awake. "We're under attack!"
BOOM went the five-inch from the fantail. BAM BAM from the three-inch in our tub.
The sub was already diving. Too savvy to risk a surface cannon duel.
PYRO squirmed away, making a jagged wake...ziggetty zag zig! We presented as small and unpredictable target as possible. Adrenalin had pumped out all sleep for the rest of the night. It was frightening to realize how vulnerable we were. That sub had such disdain for a lone transport, even an armed one, that it had surfaced in the dark to make sure of its kill. Fortunately, their tin fish had the correct vector but the wrong depth. They went under us because we were empty and riding on a high swell. The noise and the muzzle flashes of our guns were mistaken for torpedo hits. We learned much later that our navy had broken the Japanese secret code. Pearl Harbor decoded a JN-25 report to Tokyo: Ammunition ship PYRO sunk."
Our ship maintained radio silence. No plane or tincan came to look for survivors.
Twenty-twenty hindsight suggests a daybreak departure would have afforded a longer duration of escort under optimum observation conditions. On the other hand, it was crucial that we get through. Perhaps, blacked out at night was our best bet, since the water around Pearl Harbor was saturated with submarines. No full trip escort would return with us, either. That trip would be a blast, almost!
Our course traced an erratic arc until we stood off the Barbary Coast. Trouble was sure to happen now. The vicinity of harbors are the best places for submarines to locate and sink their prey.
The sun reflected briefly off a speck in the sky, dead ahead. Radar had not yet been installed on PYRO but eyeballs knew that was a plane. Got to be one of ours, we prayed. Our arrival was not anticipated and we didn't want a hassle with our plane. Blinker lights flashed and semaphore flags popped on PYRO'S bridge. Word was passed for look-outs to keep a sharp watch for subs and gunners not to point any muzzles at that plane. Everyone else, wave your white hats. The "Old Man" wanted us to be recognized as friends.
Old Glory was the best thing going for US. A stiff breeze had it standing out from the mast like an erection. The plane locked onto our squiggly anti-submarine track and became as big as a "Goony Bird". Still no acknowledgment. It was large as a turkey before it rocked wings in salute. Our collective sigh sounded like a cheer! Now we had eyes in the air on patrol. Later, guys with binoculars reported traffic at a standstill on the Golden Gate Bridge.
As we glided beneath, motorists walked over to the railing to wave and take pictures. Some cars raced ahead and spread the news which electrified the Bay area.
Sperling was somewhere forward. I eased into his stateroom and used his glasses. People waved from shore. Three girls doing a can-can did an about face and raised hems...??@@@+; the unmentionables supposed only to be glimpsed were waved overhead! If PYRO had dropped anchor, San Francisco would have revised the Richter scale. Mindful of it's duty the ship steamed upstream to Vallejo and further misadventures.

---
Pertaining to the USS Pyro AE-1 departing the States in Nov. 1943. Sankey Moody an Ordanceman attached to a Chemical Warfare Special Service Group trained to ship Poison Gas Bombs and Containers during shipment to the War Zone during WW2. Their mission on this trip was to deliver 1000 lb. Chemical Bombs to Gen. MacArthur's Command in Australia in the event that the Japanese used Chemical Warfare. USS Pyro AE-1 carried them safetly to Australia where the Chemical Warfare Supplies were off loaded ashore and stored in Quonset Huts. ( Note: those were the days when you carried your Gas Mask where ever you went aboard ship during that cruise, now do you see why ??). Later during during the War, Sankey the Ordanceman crossed paths with the AE-1 without knowing it . As in 1944 he was ashore in the Admiralty Islands, (Manus Island) and witnessed the explosion of the USS Mt. Hood ( a terrible tragedy and loss). Naturally, the AE-1 was in the harbor at that time. Furthermore, he states that it "sure brings yesterday back to our minds and memories of the Navy Days of Long Ago. God Bless Everyone...Sankey Moody.
---
The event I'm about to relate happened to me, Jerry Gage and two other machinists in 1975 aboard the AE-24. While standing cold-iron watch in the engine room alone at different times we all saw independently of each other two ghosts visible only from the waist up. They were side by side and moved through the air towards the throttle board where we watch standers always sat. They had a very happy, big smile, on both their faces and both had their right hand outstretched chest high and both were lowering the hand as they got closer for positioning to shake hands. I thought they were yardbirds until I noticed they were faded into nothing starting from their waist. I was 'M' Division LPO and said nothing for fear of ruining my credibility. However on the mess decks late at night I overheard two other machinists, MM3 Haas and MM2 Higdeon say "......ghosts at main control" we talked and discovered we all had seen the exact same thing.. It would be impossible to stage this. Has anyone else mentioned this ? Were they dead yardbirds, they were in civiles, long hair, perhaps killed on board and they refused to leave.. I don't know who else to ask.
---
On Sept 30 1939 the Pyro sailed from Panama Canal to San Diego CA. Chief gunners mate Virgil Powell was aboard for the duration. Captain R.S. Haggart was in charge of the bridge and ship. At San Diego CA. Captain J.W. McColl Jr. Took command of the USS Pyro. This was Dec. 31,1939. On march 31,1940 the USS Pyro departed for Guantanamo Bay Cuba. On may 2 1940 the USS Pyro docked at Boston harbor, Ma. On June 30 1940 the USS Pyro docked at Bremerton, Wa. Naval shipyards. On Sept. 30 1940 the USS Pyro incidentally arrived at Norfolk, Va. On Dec. 31 1940 the USS Pyro mysteriously arrived back at Bremerton Wa. Where it stayed through Jan.16,1941. At this time Virgil Powell decided to transfer to Pensacola Fl. to become Senior Chief Gunnersmate.
Just wanted to share an ole man's recall of past memories. Would like to meet some of my dad's shipmates
I'm 47 years old I spent 6 years in the Navy myself. My dad died on his 78th birthday in May 14th of 1980. Rambling through his past I discovered his whole naval career in one book. He left the USS Arizona in Jan. 1939 to board the USS Pyro.
---